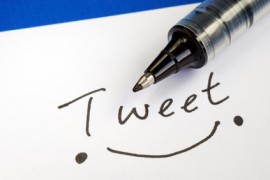 In a previous post, I talked about how I started using Twitter as a translator and what I hoped I would get out of it. Not in my wildest dreams did I expect the numerous benefits it has offered me. I thought the main advantages, like networking and finding clients would be for power users only, but I was wrong. Even if you're new, if you're not as active, you'll still benefit.
It's my pleasure to say that I have experienced ALL the benefits described below. Take a look to see what you might have been missing!
Excellent for practicing your non-native language skills
I'm not a native English speaker (yes, I know that you can tell) and although I use English in my everyday life (even more than my native Greek) for communicating with clients and translating English texts, I'd say the vocabulary I use is somewhat limited. Twitter has given me the chance to use words I'd never used before, to learn so many more and improve my linguistic skills in general.
I haven't managed to do that in the same degree with my German and French, because almost all of the tweets I read are in English, but I haven't lost hope, you never know…
Help & feedback available 24/7
Do you have a spelling question? Not sure which subway station is closest to the museum you want to visit? What about a specific term in a translation project you're working on? Just ask your Twitter followers and be amazed at the speed and quality of replies.
Conversations about work, concerns & ideas
Not sure how to react to a client's weird request or unfair demands? Wondering if the price decline you've noticed lately only concerns your language pair(s)? Or are you simply wondering where and how other translators live?
All you have to is ask your followers and talk to them about it. Maybe share a funny moment or translation blooper you found online. Translators are always eager to discuss and offer interesting input, along with their recommendations and help.
By interacting with other translators or peers in your industry, you'll come across ideas to promote yourself better. Find out what's going on in your niche, receive feedback for your blog/website/online profile and so much more.
Here's one I hadn't thought about but has happened to me a few times: getting a referral. Maintain a good online presence and a fellow translator might recommend you to their client if the latter requires a translation project in your language combinations.
Boost your online presence
Just having a Twitter account isn't enough. Get your name out there and promote your brand. Let people discover who you are and what you offer. That includes your website, blog, webinars, podcasts, presentations etc.
Twitter offers a great opportunity to increase your visibility both online and offline and make your business known to people who might never otherwise hear about it. You can also use it to track what people are saying about your brand by either checking your Mentions or using Twitter Advanced Search.
Follow the latest news in your field of expertise and share them with your followers. This will highlight your efforts to stay on top of your game when it comes to your line of work and even your expertise as you share your views. You never know, your best future client might read it and contact you with an offer of work.
Learn about job offers and conferences
Be the first to know when your favorite company has openings and stay informed about the upcoming conference you want to attend. Another excellent use of Twitter is that it allows you to follow the conferences you can't attend. The conference usually has a self-assigned hashtag that people can follow. Attendees and speakers alike use that hashtag to tweet all the interesting stuff they hear or see at the conference.
Don't forget to find out the respective hashtag (#) and use Twitter Advanced Search to follow all relevant tweets. These are the most regularly used hashtags by language professionals: #xl8 & #t9n for translation, #xl8or for translator, #L10n for localization, #1nt for interpreting, #language, #CATtools, #g11n for globalization, #i18n for internationalization, #terminology, #fit_translator (coined by @Ellexis_ for translators who work out), #xl8marketing (coined by @ADiamantidis), #culture, #glossary, #dictionary etc.
Great resource for blogging ideas
Not sure what the topic of your next blog post will be? Twitter conversations are full of interesting topics, either through the conversations among your Tweeps or through the interesting links to other blog posts that they share.
Read online articles pertaining to your topics of interest
Just because you're a translator doesn't mean that you only have to read stuff about translation. Widen your horizons. Read and then tweet links to posts and articles about different topics that interest you. My favorite topics and the ones I tweet about, except from translation and languages, are freelancing, blogging, social media, marketing and travel. Whatever you're interested in, you'll find lots of reading material on Twitter.
Find clients and providers
As I said in my previous post about Twitter, I haven't acquired any new clients via Twitter yet, but I've heard plenty of success stories from people who have. But while I haven't found work via Twitter yet, I did find my blog's editor. I met and hired Samar Owais by following her and interacting with her on Twitter. She's also one of the few people I know who regularly finds work via Twitter. Visit our About Us page for more details.
Other opportunities that might present themselves
This just in: On the same day of publishing this post, I attended for free the ELIA Networking Days in Athens. Just so you get what free means in this case, it would cost me more than EUR 700 to attend both days of the conference. Wondering how I pulled that off? I met Renato Beninatto, President of ELIA, via Twitter (@renatobeninatto in case you aren't already following him) and in person at ATA's 52nd Annual Conference in Boston last week. A few days before we met in Boston, Renato invited me to attend ELIA as a guest to be their official Twitterer. Just like that! I had a great time at the ELIA today tweeting away, I met amazing people and all that at no cost. Thank you again so much Renato!
Apart from my personal story above, I've also read online about people getting paid to live tweet in conferences and other events. Social media is spreading people. Don't be afraid to try it! You never know what good things can come out of it.
What have been the greatest benefits of using Twitter for you? What do you love most about it?
Further reading:
Twitter For Translators – 10 Reasons Why
Twitter for translators?
Do you Twitter?
You may also like