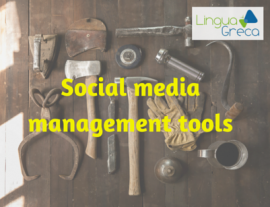 There are moments when social media becomes particularly time-consuming (during a heated argument or an interesting conversation, or when you're following a conference on Twitter) and this rings especially true for new users. It's easy to become overwhelmed, forget the main benefits (networking, learning, staying up-to-date) and simply stop using social media altogether.
Below are some FAQs people ask me at conferences, for interviews and in webinars:
How much time does it take you to manage your social media presence?
You seem to be on social media all the time! When do you find time to do paid work?
Which tools do you use to help manage your social media accounts?
I don't know what to share, where to start, or how many updates to publish per day or week, help!
So, I thought I'd share my process with you along with the tools I use for managing Lingua Greca's social media presence, and the time it takes per day or week. I hope this will give you some examples of useful tools you can use to manage your accounts and save precious time that you can spend translating or, even better, with friends and family.
STEP 1 – FINDING CONTENT TO SHARE
What I share on social media is based on the blogs I read. The majority deal with translation and languages but also touch on other fields of interest like writing, networking and social media.
Free tool (RSS reader): Feedly
Time spent: Every morning I spend 20 minutes reading blogs before getting down to work. It works well when I don't have urgent morning deliveries. Even if I miss a day, 20 minutes is enough to skim 200-300 new posts every day and find a few great ones to share.
That's the best case scenario. When work is crazy, I read the blogs I follow on the weekend. Depending on how behind I am with my reading, it usually takes 2-3 hours (maximum), including composing the tweets to share.
STEP 2 – COMPOSING TWEETS
Here's my tweet writing formula:
Title of post
Hootlet-shortened URL
by (if the author follows) OR via (if the website where it was published follows)
hashtag (usually #xl8, #t9n or #l10n, see common hashtags for linguists)
>comment (optional and if there's space)
Example
How to make time for online marketing in a small business http://ow.ly/OOemR via @wearearticulate >Great post!
Free tool (social media management): Hootsuite Hootlet (Chrome extension)
Time spent: Included in Step #1
STEP 3 – SCHEDULING TWEETS
All the tweets I share on Twitter get sent to Christos who creates a list that we publish on our blog each week as Weekly Translation Favorites. Many (free) online tools, like Hootsuite, have scheduling capabilities.
Free tool (social media management): SocialOomph
If you are managing more than one social media account, for example your professional one and your company's, you can add the second account in SocialOomph (still free) and then choose which account to share from when you add an update.
Time spent: 15 minutes per week (really!). It's very easy to use.
STEP 4 – CHOOSING WHAT TO SHARE ON OTHER SOCIAL NETWORKS
Apart from our (very) active Twitter account, you can also find us on Facebook, Google Plus, and LinkedIn, where I post updates once or twice per day. Based on our published tweets, I have plenty of content to select from and share on other social networks.
Free tool (content curation): Scoop.it
This is a great tool for exploring and sharing content. You can choose sources for articles based on hashtags, RSS feeds and social network accounts. Given the number of blogs I read (and the people I follow on social media, through which I find more great content to share), I have opted to see only the tweets from our LinguaGreca account.
Time spent: 3-5 minutes per day to publish all Scoop.it tweets and to choose a few to share on other social networks.
STEP 5 – KEEPING UP WITH FOLLOWERS AND CONTACTS
This is something you should do daily. Remember, social means engagement so if you don't interact with the people you follow, there's no point in being on social media.
Free tool #1: Twitter lists
There's no way to keep up with updates shared by people you follow unless you use Lists. As soon as you organize everyone you follow into lists, you can use
Free tool #2 (social media management): Hootsuite
The free account lets you use 3 networks, so this probably means Twitter, LinkedIn and Facebook for most translators. Hootsuite gives you tabs with each network and multiple streams in each tab (up to 5 are visible on a PC or Mac). This way, you can see separate lists of Mentions (people who replied to you or mentioned you on Twitter), your Direct Messages inbox or outbox, a stream of up to 3 keywords or hashtags (e.g. tweets from conferences), tweets from people in your [name of] list, new followers and so on.
Time spent: 20-30 minutes per day for the basics:
check all Mentions and reply or say thank you (all social networks)
check new followers and LinkedIn invitations and follow back or accept
quick read of tweets and updates from people you follow to discover great content and add comments and likes (all social networks)
That's it! These are the main tools I've been using to manage our social media presence. These tools have dozens of other capabilities, so if you decide to check them out, explore a bit! I'm sure you'll discover great features that will help save precious time.
How about you dear readers? Any favorite tools or tips on how to make social media even more fun?
Header image credit: Unsplash
Header image edited with Canva
You may also like