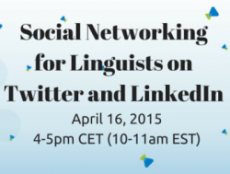 It was a real pleasure to present the webinar Social Networking for Linguists on Twitter and LinkedIn with the help and support of the Alexandria Library. Sharing tips and resources about tools and processes you love is just so exciting!
Thank you so much to everybody who attended the webinar live or listened to the recording afterwards (it will be available for all those who registered for 40 days after the day of the webinar).
You can contact me anytime for questions or feedback on my presentation or use the Comments section below so all our blog readers can benefit from your questions 🙂
You can find the slides on Slideshare or below:
I also prepared two handouts for the webinar, click the file names below to download them.
Handout – LinkedIn checklists
Handout – Twitter checklists
Details of the webinar
Date: Thursday, April 16th, 2015, 4-5pm CET (10-11am EST)
Description: Translators' and interpreters' communities on social media have become the ultimate networking tool for linguists. The interesting conversations and useful resources shared help linguists improve their work processes and become better entrepreneurs in innumerable ways. This session will provide an overview of Twitter & LinkedIn and offer tips on how they can be used to enhance our online presence and networking. The session will offer tips on the basics of a good profile, what to share and where to find content, how to use social media for business, whom to follow, and, last but not least, the most common mistakes.
You may also like