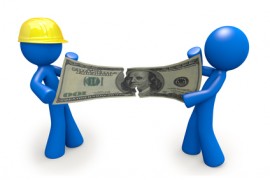 January is turning out to be a very busy month, with work coming in from regular clients, as well as numerous requests for cooperation from new and potential ones. One of the agency requests that I got a few days ago looked pretty standard at first. It was addressed to multiple translators inviting them to be part of their freelance translators team. To proceed, each interested translator would have to read, sign and send back the usual forms (terms & conditions, translator details, confidentiality agreement and the like).
So far, so good. The tone of the email was friendly and professional enough for me, so I opened the files to read them. That's when it hit me. There were numerous warnings about quality and deadlines followed by penalties for each little thing. Let me give you some examples:
Quality penalties:
3+ minor issues and/or 3+ typographical errors etc. >65-90% of payment
Major errors (mistranslation and/or major spelling mistakes etc.) >0-50% of payment
Deadline penalties:
within 1 hour after the deadline – 10% reduction on full payment
within 4 hours after the deadline – 20% reduction on full payment etc.
If you deliver over 24 hours after the deadline, you don't get paid at all.
And one more noteworthy item: If the translation job is greater than 5,000 words, you should regularly update the Project Manager with your progress (at least once/day).
First, I laughed. Then, I felt sorry for the owner and the PMs of that agency. I mean, imagine how bad their experiences must have been with translators in the past to feel the need to include such penalties in their forms! I decided to save my precious time and just delete the email but then I got a bit mad. So, I replied to person who had sent me the email and asked a few questions as politely as I could, excerpts below:
…You've probably had some pretty bad experiences with translators to feel the need to include those penalties, but they seem a bit far-fetched to me. Good and professional translators don't need the threat of non-payment to deliver a quality translation on time.
For 3+ minor issues, the translator gets 65-90% of full payment? No translation is perfect and every proofreader will find at least 5-10 mistakes (preferential or not) in a small 500-1,000-word translation, even it's flawless work.
Delivery within 1 hour after the deadline – 10% discount? I am a big believer of deadlines and they are at the top in my list of priorities, but still. What if I have Internet trouble just before the deadline and I deliver 10 minutes late? I have to be penalised for that?…

Now, let me get a few things straight. I am a firm believer of meeting deadlines. I always try to deliver even earlier than the deadline, though usually I'm just on time (which is still good enough I think). I tried outsourcing a few years back and the main reason I stopped was because I couldn't handle the stress of translators delivering late without any notification.
As for the quality, I won't bore you with details, just the basics: I use a spell-checker, read each sentence I just translated before moving on to the next, research each term I don't know until I'm sure about its translation and send questions to PMs in cases of uncertainty. Finally, I read my translations at least once more before delivering them. For some projects, I also do terminology/tag/consistency checks. That's it. And judging from my many happy repeat clients, I'm obviously doing a good job.
These penalties don't scare me, they infuriate me. I've seen penalty clauses in other agency forms in the past, I know they are there for the irresponsible translators, a mere warning that the agency is serious and won't accept a machine translation when they paid for a human one, a late delivered job or repeated non-adherence to job instructions. I'm all for that. If I ever become a company, I'll add one of those in my Terms & Conditions as well.
As for the noteworthy item I mentioned above about notifying the PM every day if you're working on a job more than 5,000 words? Come on, nobody does that. Why would I spam the PM with daily emails saying "All good with the job, talk to you tomorrow!"? If I deliver a quality translation on time, why do I have to notify the PM about my progress along the way? If I'm busy, I might start working on the project just a few days before the deadline. If the PM knew that, he/she would surely be nervous about the deadline. Not all translators work with the same speed. I know a translator who can easily translate up to 8-9k words/day and her work is actually very good! She is experienced and types fast. Can you imagine if she sent an email to the PM a day before the deadline saying "Hi, just starting the translation of the 9k doc for tomorrow morning"? Wouldn't the PM go berserk?
Anyway, I'm very interested in your feedback about penalties and the ones mentioned in this post in particular. Would you have said something or just deleted the initial email? Would you have agreed with those penalties?
P.S. I haven't received a reply to my email yet, I'll post an update when/if Ι ever do.
You may also like