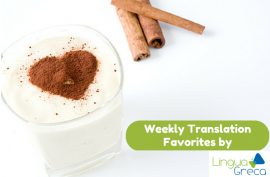 Every week we share on Twitter many interesting blog posts and online articles on translation, interpreting, language, as well as freelancing, blogging, business and social media. If you missed any of the great content we shared last week, here is your chance to catch up.
The content is listed in categories based on the topic, so just scroll down to find your favorite and enjoy reading! You can read the Weekly Favorites from previous weeks here.
If you read any fabulous posts that we missed, let us know in the Comments section or email us at info@linguagreca.com so we can add your links to next week's list.
Translation, Interpreting & Languages
A Short Guide to Measuring and Comparing Machine Translation Engines
How to Get Quality, and Save Time and Money When Buying Translations
Donald and Mickey have a serious talk about translation quality.
"Show Me the Money !": Pricing Levels in the Translation Industry
Spare a Thought for Your Interpreting Teacher (Part 2 – Simultaneous)
Snappy Answers (to Stupid Comments about Translation)
New utility to keep track of changes in bilingual files
Tips for Translators: How to Use Google as a Research Tool
Google adapts its terms and conditions – and its language
12 Tips for Selling Effectively to a Global Audience
Translation pricing for today's "prosperous" translator
Mια ενδιαφέρουσα έκδοση (Το παζλ της μετάφρασης)
What the Smartest Translation Buyers Know
Apple Record Revenues Rely on Localization
How Translation & SEO Work Together
Is Every Translation Just a 'Placeholder'?
Foreign Rights and Literary Translation
"Stop Trying to Delight Your Customers"
QUIZ: What Type of Multilingual Parent Are You?
Translator's rates – how to work them out
A Grammar Geek Reads the Newspaper
Technical Writing for Into-English Translators
Confidentiality and Google Translate
Music To Translator Ears?
Who Speaks for the Words?
Copyright for Translations
TGIF: How to Fake French
British vs. American English
How Agencies Think
Educating Clients
Freelancing, Blogging, Writing
Freelancing Un-resolutions to Make 2012 Your Best Freelancing Year Yet
Stand Out Among Freelancers by Communicating With Your Client
8 Metrics Every Freelancer Should Measure at the End of the Year
How to Set Personal Boundaries When You Work From Home
Questions To Ask Yourself Before Becoming A Freelancer
10 More Reasons Why Freelancing Is Not for You
25 Reasons Why Google Hates Your Blog
You Are So Wrong About Guest Blogging
26 Tips for Writing Great Blog Posts
10 Most Common Writing Mistakes
Social media
How To Integrate Facebook, Twitter And Google+ In WordPress
Twitter To Censor Tweets In Some Countries
6 Steps to Getting Started With Google+
Who do you follow on Twitter?
Marketing, Business, Networking, Web Design
Landing Pages Guide 101: Create Landing Page That Works
How to Become the Person Everyone Wants to Interview
8 Things Designers Should Teach Their Clients
Content Strategy: Don't Ditch Your FAQ Page
The Ultimate Guide To Business Card Design…
How to Compute Your Business Income
Travel & Miscellaneous
100 Years in 10 Minutes (1911 – 2011 in 10 Minutes)
How to Prioritize When Everything Is Important
The Lost Art of Becoming Good at Things
Proud, but powerless: the Greece that I love
Science Confirms: Don't Go to Sleep Angry
Making Mondays Work for You
How to Look Your Best In Photos
30 Things to Stop Doing to Yourself
Top 10 Tricks for Getting Better Sleep
Η φορολογική δήλωση του Πειναλέοντα
How to De-SPAM Your Life
You may also like