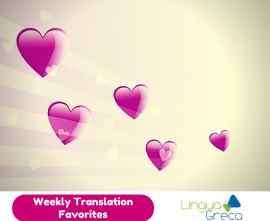 Every week we share on Twitter many interesting blog posts and online articles on translation, interpreting, language, as well as freelancing, blogging, business and social media. If you missed any of the great content we shared last week, here is your chance to catch up.
The content is listed in categories based on the topic, so just scroll down to find your favorite and enjoy reading! You can read the Weekly Favorites from previous weeks here.
If you read any fabulous posts that we missed, let us know in the Comments section or email us at info@linguagreca.com so we can add your links to next week's list.
Translation, Interpreting & Languages
Translators Are Among The Most Difficult And Possibly The Strangest People On This Planet
A New Twist on Cross Selling for Boosting Your Translation Revenues
From warring rutabagas to human beef: the wonderful world of typos
Is English an innately positive language? Scientists say yes
Sales People as Differentiators in Language Services
Translators & Project Managers – just like Fish and Chips!
Differentiation Can Make Your LSP a Sales Ace Magnet
50 Musical Terms Used in Nonmusical Senses
Use Referrals to Boost Your Translation Revenues
10 things your spell checker won't catch
They Don't Know Me But I Know Them
Language Learners as Translators?
Translation rates: a modest proposal
Words, Meaning and Context
The Versatile Blogger Award
Freelancing, Blogging, Writing
How to Stay Motivated and Avoid Slacking Off While Working From Home
25 Ways to Improve Your Freelance Writing Business in Under 5 Minutes
Three Easy Tips to Help You Effectively Estimate Project Time
How to Deal with the Unique Challenges That Freelancers Face
12 Business Blogging Shortcuts for Time-Crunched Marketers
7 Warning Signs That You Are About to Lose a Client
Tips for Keeping Focused on Freelance Deadlines
Do You Make These 5 Common Negotiating Mistakes?
How to write an eBook part 3: Formatting
The Pros and Cons of a Freelancing Partnership
If I Were the Blogging Police… :
Stand Up for Your Rates
Social media
What Is The Right Mix of "Personal" and "Professional" for My Blog?
The Ultimate Guide to Marketing With Facebook's Social Plugins
How to Maintain a Community of Relevant Twitter Follows
How Are You Using Social Media To Promote Yourself?
The Vehicles That Drive Your Personal Brand Message
LinkedIn has changed its privacy conditions
Twitter Selling Out to Censorship Pressure?
Marketing, Business, Networking, Web Design
A Step-by-Step Guide to Winning (Almost) Every Single Negotiation
9 Unique Ways to Generate Leads With QR Codes
Travel & Miscellaneous
10 Stubborn Body Myths That Just Won't Die, Debunked by Science
You may also like