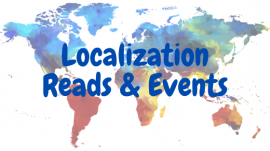 Our Translation Favorites series has a new name and updated look! Apart from great reads on translation, localization and languages, we'll be featuring unmissable (mostly related to languages, translation & localization) events that you can join for free. Click here to read Translation Favorites from previous years, and here for the Localization Reads & Events archive.
If you've read a fabulous post or you are hosting/attending an awesome free event, please email us at info@linguagreca.com so we can add your link or event in next week's list.
Upcoming free online events
Translation, Localization, Languages
Stefan Huyghe and Marjolein Groot Nibbelink unpack the influence of Dutch on English, language evolution, and the shift in writing education in the US
The Babel Within | Two memoirs consider what's gained and lost when a new language is acquired and a mother tongue is all but forgotten.
Enchanting and Engaging End Users with Data: Where Language Service Providers Win Big with Customers
French Canadian Language Activist Michel Thibodeau wins victory against airports
From Localization to Product Management – VistaTalks Episode 85
Leverage Numbers to Convey the Business Impact of Localization
How Case Studies Can Help You Market Your T&I Services
The 2022 Nimdzi 100 Language Services Market Analysis
Dialect or language: What separates one from the other?
Content localization: How much content is too much?
The Story Behind the Globalization Strategy Playbook
Five Signs It's Time for Your Start-Up to Go Global
Machine translation and slang: A new approach
Ten more mistakes to avoid in localization
Top five mistakes to avoid with localization
Μεταφραστικά λάθη κάνουν και οι άγιοι
Business, Tech and other interesting posts
What to Say When: A Cheat Sheet for Tricky Conversations
Seasonality in a Global SaaS Business
You may also like