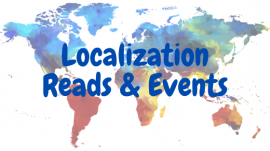 Our Translation Favorites series has a new name and updated look! Apart from great reads on translation, localization and languages, we'll be featuring unmissable (mostly related to languages, translation & localization) events that you can join for free. Click here to read Translation Favorites from previous years, and here for the Localization Reads & Events archive.
If you've read a fabulous post or you are hosting/attending an awesome free event, please email us at info@linguagreca.com so we can add your link or event in next week's list.
Upcoming free online events
Translation, Localization, Languages
Kahkiihtwaam ee-pee-kiiweehtataahk: Bringing it back home again – The story of how a critically endangered Indigenous language can be saved
Why Indigenous languages matter | Multilingualism is at the heart of Canada's identity. It's also a matter of decency and human rights.
How To Build Relationships In Localization – Stephanie Cardwell | The Localization Podcast #49
Language packs: Meta's mobile localization solution – Engineering at Meta
The best recent translated fiction – review roundup
11 Greek Expressions You Should Know
How to Use (or Not Use) a Hyphen
Business, Tech and other interesting posts
Stop Rambling in Meetings — and Start Getting Your Message Across
80+ Funny But Hurting True Realities About Daily Life
Puzzle Monday: Great Big Things Crossword
A rocketship launch or a leap of faith?
Networking (in person) is back!
You may also like