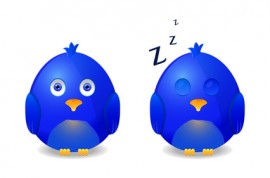 A few weeks ago, I wrote a post about 10 Common Mistakes on Twitter. The list below includes 10 more mistakes I've noticed users making on Twitter. Now, you have no excuse of using Twitter the wrong way 🙂 Enjoy!
1. Promoting yourself or your company
If you only created your Twitter account to say "I'm an English-Greek translator available/looking for assignments", you won't get any clients or followers that way, believe me. Potential clients might think that if you're that desperate, you're probably not that good a translator to start with. Promote your professionalism by tweeting interesting and useful stuff in order to get clients interested so they can click at your website or other professional webpage and learn all about the services you offer.
And for some translation agencies I've noticed on Twitter: You're not going to find new clients on Twitter by posting "We offer trans services in 900 languages" multiple times or even once a day. Stop doing that. As with the translators' accounts, put some time into finding interesting stuff to tweet about. Include updates about your company blog, news or anything else that your followers might find interesting. And if you want to advertise your services, make it subtle.
2. Blog promotion
Of course you'll send an update when you publish a new post in your blog. And if you're not doing that, start immediately. Unless you only write for yourself (why do you have a blog and not a journal then?). Don't tweet about it 5 times in the same day though. 1-2 is enough, maybe once more the next day. People will get bored seeing the same thing over and over again.
If you're wondering what I consider a nice way to let people know you just published a new post, here it is: First write something to let people know that you're the author of the post (obviously you can't add your own Twitter name in the tweet), e.g. My new blog post: Then, add the title, e.g. Translators & their pets. Finally, add the hashtags related to your post, in this case #xl8 #t9n and maybe #pets J
3. Quantity of tweets
Avoid tweeting too much (more than 12-15 tweets per day) or too little (once every week/month). People will either get bored of you 'hijacking' their timeline or forget about you respectively.
4. Frequency of tweets
If you want to send a specific number of tweets every day, don't just send them all at once. Spread them out over the day. And if you don't want to log in to Twitter every once in a while to send your next tweet, you can schedule your next tweets using a free service, e.g. Hootsuite or Socialoomph.
5. Pls. follow me
Never beg for followers, that's tacky. Only your existing followers can see that anyway, what's the point?
6. Hashtags
Don't add a hashtag in every word in your tweets, only add hashtags to the words that are relevant to the tweets content. And please, stop adding irrelevant hashtags just for the sake of it. For example, if your tweet talks about Facebook, don't add #xl8. Of course, if we're talking about a link to a blog post where a translator is talking about the benefits of Facebook for his/her profession, then by all means do add #xl8. You get my point.
7. Conversations
Sure, you can have a conversation on Twitter, but the 140-character updates can be somewhat limited. So, if you have a lot of things to say, take it to the next level and send an email. And always be careful of what information you share publicly. Use messages (DMs) for sensitive information.
8. Replies
Always use the Reply button on the specific tweet you want to comment on. Otherwise, the recipient won't know what you're referring to.
When you press Reply on Twitter, all the names that appear in the tweet you want to reply to appear. If you want to reply to everybody then leave them as is and add your answer. If not, then it's just spamming. For example, when you say thank you for an #ff, don't include everybody in the original #ff list, just the person who mentioned you.
9. Attitude
You think you're better than everybody else and Twitter is a great platform to talk about yourself and only that. Let me save you some time. Nobody is going to listen.
10. Venting
Sure you can send a few tweets about something that frustrated you. But there's a limit. Be careful what and whom you talk about, don't forget your tweets are visible to anyone on the Web.
What have I missed? Any other mistakes you've noticed people (or us for that matter) making on Twitter? Let us know in the Comments section below or drop us an email.
You may also like