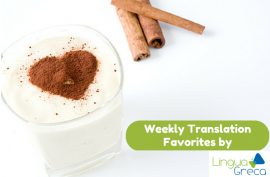 Every week we share on Twitter many interesting blog posts and online articles on translation, interpreting, language, as well as freelancing, blogging, business and social media. If you missed any of the great content we shared last week, here is your chance to catch up.
The content is listed in categories based on the topic, so just scroll down to find your favorite and enjoy reading! You can read the Weekly Favorites from previous weeks here.
If you read any fabulous posts that we missed, let us know in the Comments section or email us at info@linguagreca.com so we can add your links to next week's list.
Translation, Interpreting & Languages
What's all the fuss about mobile, #2? (Aka, My return from Loc World)
Lessons learned from localization Part 2: Development discomfort
I Can't Get No Respect: Lamentations of a Language Professional
Tips for First Time Attendees PowerPoint presentation
Differences in American and British English grammar
Lesson 44: Translators, do you know how to network?
Certified Medical Interpreter: A title in your future?
Speech Marks Translation at Language Show Live
Advice for Beginning Translators and Interpreters
Theatre presents unique challenges for translators
Effective Determination of PEMT Compensation
Do proZtitutes make translation easier than ever?
More useful resources… and multilingual TMs
Applying Information Theory to Linguistics
1 Linguist, 3 Questions with Jehanne Henin
Did you know these facts about translation?
Lesson 43: Give me your business card…
ATA Conference in San Diego, days 1-4
3 Reasons to Review Galleys and Proofs
What is the BIG DEAL about RATES
The world's worst typos – in pictures
Put OCR in Your Business Model
2012 ALTA Conference Report
50 Slang Terms for Money
Interesting Place Names
Are You an Anglocreep?
La chasse au Trésor (ou la traductrice agent de recouvrement)
Αγγλοελληνικό Λεξικό Ευρωπαϊκών και Χρηματοοικονομικών Όρων (679 σελ.) (pdf)
Ημερίδα: Το επάγγελμα του μεταφραστή
Freelancing, Business, Writing
14 Ways to Personally Thank Customers and Boost Loyalty
11 Signs Of Problematic Clients You'll Meet in Freelancing
Ten writing mistakes that make you look unprofessional
What has my freelance life taught me about finances?
How to Deal With Nightmare Clients
Freelancers: it's not you, it's them
Miscellaneous
10 famous speeches in English, and what you can learn from them
The Ultimate Guide For Finally Getting Organized [Infographic]
Atlas of True Names
You may also like