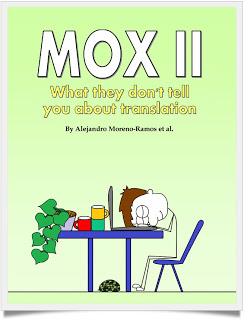 A few months ago I wrote about my exciting experience writing a chapter for the new Mox book (MOX II – What they don't tell you about translation) by Alejandro Moreno-Ramos (@Mox_Translator).
For the very few of you who haven't read and thoroughly enjoyed the book yet, here is my contribution.
Pam, the evil PM, is just one example. There are all kinds of not-so-perfect project managers or even agency owners in the translation industry, and the things we read in work emails can be unbelievable sometimes.
We've all been there. You open the email and think your eyes must be fooling you. And then, you're not sure how to react. Laugh or cry? Should you bother writing an email stating all the things wrong in the PM's email, reply politely with a "thanks, but no", write an angry email and let off some steam (not recommended) or just delete (if you ignore it, it won't go away; a follow-up email will come soon)?
The quotes below are all true, things I've heard (more accurately, read in emails) in the last 11 years. I've changed a few details in some of them, but the gist is there in all its glory. And I'm sure there is still a lot to hear in the future. After the first few, I decided that my standard reaction would be to laugh, politely say no and be permanently unavailable for those agencies (they get the point after a while).
Rates
Our client decided to hire internal translators for a few languages (not yours), so we're decreasing your rate by 0.03 to make up for our lost income.
If you accept a 50% reduction to your rate, we'll send you heaps of work.
Why are your prices so high? Don't you live in Greece?
We see in our database that you've translated 500k words for us in the last 2 years. As a way of you thanking us for sending you so much work, we think it's time you offered us lower rates. If you don't, we have many cheaper translators in our database.
We want a translation quote for these 2 files. Here are the previous source and target files. The client has changed quite a lot, so we need you to align the files first. (I replied that I'll provide a quote for the translation after the alignment and analysis). No, we want a quote now so we decided to use a cheaper translator.
Productivity
(While on my honeymoon) Ok, if you accept this job we'll push back the deadline a few hours. You always deliver on time anyway, so we can do you this small favor.
We're splitting this project between 5 different translators and we want you to be the editor. Basically, you have to make sure the terminology is consistent throughout and that the translation looks like it's been written by one person only.
I know I've sent you 7 different drafts of the same file to translate in the last few days, but my client is in a hurry. If they send more by your deadline tomorrow, you'll have to start from scratch and still deliver on time.
Our client complained about the Greek translation projects because you always deliver a few hours before the deadline whereas translators in other languages deliver one day before.
CAT tools
I know that you own, have trained on and use 10 different CAT tools, but my client has created their own. You have to buy it and learn to use it to complete this 100-word project.
We heard that using a CAT tool will save us money. Can you pls. tell us how it works?
We created our own innovative CAT tool. In order for you to use it, you have to pay a monthly subscription, and there's a charge for each segment you translate.
Social media
We just created profiles in all the major social media networks. Don't go and like or follow us though, we don't want our clients to see who translates their texts.
More gems
Thank you for being our regular and always available English-Greek translator for the past 5 years. The agency owner's wife was recently fired so she'll be the one doing all the Greek translations from now on, and you'll be her backup when they go on vacation.
It's a medical report, but it's not technical, so you only need a dictionary to do it.
To add you to our database, you have to translate this 2,000-word sample for free.
I know you're not an interpreter, but we're only talking about medical interpreting by phone. You have the flexibility to answer an interpreting call during your break from translating or while you are doing your home chores.
What about you? What crazy things have you heard from translation project managers? 🙂
You may also like