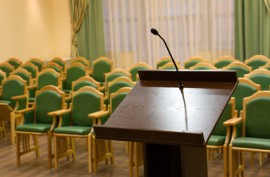 The biggest and most exciting annual conference for translators, ATA's 52nd Annual Conference in Boston, is just around the corner! This will be my third time attending and my excitement just gets bigger every year, along with the conference. Remember an episode in Friends when Phoebe and Rachel talk about Monika getting married and they say they're 80% happy and 20% jealous? Well, my excited-scared ratio for attending translation conferences and meeting translators from around the world has changed dramatically over the years.
First conference experience: 50% excited – 50% scared
Being in the middle of Times Square, in an impressive hotel with 2300+ attendees: too much to take in as a newbie in conferences. It was more like a recon mission: see what's going on, get the hang of it and prepare for next year's conference.
Even the very few people I talked to must have been stunned by my hit-and-run approach. Ted Wozniak was the first: 'Hi, nice to meet you, thank you for Payment Practices, I've been a member since its Yahoo days, here's my card, bye bye'. The second was Jill Sommer, who encouraged me through her blog to go and say hi. Which I did in pretty much the same way.
More mistakes from my first ATA conference
The resumes I brought were 6 pages-long each! Of course I updated it the moment I returned home, but why couldn't I have done that

before

the conference?
When I got back I had planned to email the people who had given me their business cards during the speed networking session (at least I hadn't been too scared to participate in that). Things got busy, a few months went by and I didn't. It's like I never met them, how dumb was that?
You get the picture. I hope you also see how I did horribly wrong and avoid doing the same or similar mistakes.
The next year: 80% excited-20% scared
My second ATA conference experience was in Denver. I was still scared and not really sure how to go about introducing myself and starting or participating in a conversation, but I was determined to give it a try. What I did differently:
My resume was 2 pages this time, printed on 1 page, quite a progress, right?
Not many Greeks attend the conference, so there's no corner or banner in the Job Marketplace for Greek resumes. I bought a nice stand and printed an A4 with the word Greek on it in big bold letters and placed it behind my resumes.
There were people I really wanted to introduce myself properly or talk to. Jill was one of them again. After half an hour of staring at her (sorry Jill!) across the room at a German Division gathering, I mustered the strength to go and talk to her again. I also attended a bloggers' lunch she organized a few days later, although I wasn't a blogger at the time. I met more amazing people there, including Eve Bodeux, Abigail Dahlberg, Tom Ellett & his wife Alison and many more.
I took extensive notes during the conference and organized them in categories and to-do lists, so I knew exactly what I had to do as soon as I got back home.
I introduced myself and congratulated some of the presenters whom I had found especially inspiring or helpful.
I bought two books at the Exhibit Hall when the authors were also there, so I could meet them: The Prosperous Translator from Chris Durban and The Entrepreneurial Linguist from Judy & Dagmar Jenner.
When I returned home from the conference in Denver:
I filed the business cards after copying all the details in my Outlook along with a note for each contact saying where I met them etc.
I sent all the emails I had planned to within 3 weeks. First the personal ones, then the ones to fellow translators and the presenters I hadn't had the chance to talk to and finally to a few translation agencies.
Doesn't sound so hard, does it? And it's only a very small part of the networking advantages the ATA conference offers you. There are so many things you can learn and interesting people to meet, including future clients. If you are a newcomer at the ATA conference, make sure to watch Jill Sommer's (free) webinar and read her Webinar Q&A blog post.
What will I be doing at this year's conference? Only time will tell! I finally have a website and blog, so I already feel more prepared. I've ordered new business cards with my logo plus, I just got my free Moo cards, courtesy of Klout perks, and they look so cute, can't wait to show them off!
For me, the two most important things to do for this conference is to overcome my anxiety of meeting new people & NOT work for its whole duration. Fingers crossed for both.
What mistakes have you made in the conferences that you have attended? Were you overwhelmed during your first experience? How did you overcome your fears?
You may also like