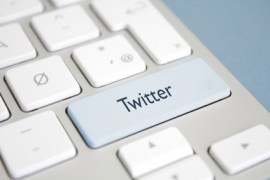 (Read the French translation of this post)
This is the first post in a series of posts I'm planning to write on how I use Twitter & tips to enhance your Twitter experience. I have been using Twitter for less than a year, but I've been spending quite some time on it daily, so I hope you'll find my tips interesting. I'll start with a short background history on how I discovered Twitter and started using it and then I'll tell you the main reasons on why I tweet so actively and how it's changed my life (I know that sounds heavy, but it's true!).
My Introduction to Twitter
I created my account following many recommendations on how it can be a great networking tool for translators during the 2010 Annual ATA Conference in Denver. All the presenters said that the Holy Trinity of networking for translators was Website – Blog – Twitter.
The people who recommended this combination during their presentations at the conference are freelance translators and entrepreneurs whom I highly respect and value: Judy Jenner, Corinne McKay, Tess Whitty, to name a few. So, I decided to stop joking around with my marketing efforts and moved ahead with all three.
Twitter was the easiest of the three to implement. On the last day of the conference, while in a Starbucks checking my emails, I set up my Twitter account. It took 5 minutes, plus a few more to find the first people to follow (@bonnjill @language_news @ebodeux @corinnemckay @Tesstranslates) and send my first tweet.
No, it wasn't: 'Hello world!' or 'I just created my Twitter account'. It said something about the ATA conference that had just ended. I spent the next 2 months reading my Timeline and sending just a few tweets daily, trying out the different Twitter tools (such as Hootsuite and Tweetdeck) and finding more people to follow. Generally, I felt a little lost.
It took me a few months to get the hang of it. It took reading numerous blog posts and trial and errors, as well as observing how other Tweeps used Twitter. Once I got the hang of it, I started interacting more, sharing more and generally just being there more. People started to remember me and appreciate the info I shared. While recognition shouldn't be the ultimate goal (or even one of them), it sure is a nice incentive to keep you going. Soon, I started having email conversations with some of my Twitter friends, sharing great thoughts and ideas about marketing our services, exchanging information about our work, our rate structures and many more topics.
Twitter for professional or personal use?
 Each Tweep* has a unique way of using Twitter. There's no definite recipe for success. It also depends on what you want to get out of it. If you want to interact with your colleagues, discuss professional matters & topics related to your industry, then you need a professional account. You can invite your friends of course but avoid sending too many updates about personal stuff & things that might not be interesting for your colleagues and potential clients.
If connecting with your friends is your goal or you want to complain about your nagging partner or share what you had for breakfast, then create a second account for personal use or try another social medium, such as Facebook.
My Twitter strategy & goals
At first, I wasn't sure what the purpose for using Twitter was. The obvious goals were networking with peers and increasing my online presence. I never thought that it might be possible to get jobs via Twitter (if you're wondering, it hasn't happened to me yet) or to find & contact clients (haven't done that either).
Even with the networking, it never even crossed my mind that the people I would meet, could become dear friends (even without having met them face to face, with one exception so far, see my post A translator in Barcelona for details). How wrong I was!
The sense of community is unbelievable. The help and support I've received and the many hours of fun and interesting conversations I've experienced can't really be described or expressed with words. So, my main goal still is and will remain networking with my peers and meeting new and interesting people every day.
Of course, I've benefited from Twitter in many other ways, some of which might also be your reasons for using it. I'll talk about those in my next post Why I Use Twitter – and Why You Should Too so stay tuned! In the meantime, let us know how Twitter has affected your life and what you love most about it.
*NB: There are lots of there available to refer to your Twitter friends, two of them being Twitterers and Tweeps. I prefer and use the second one.
You may also like