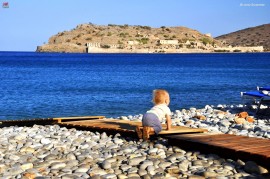 We keep hearing and reading how important branding and promotion are for our businesses. But maybe some of our peers are taking it a tad too far? How much self-promotion borders on too much? Christos and I have been discussing this for quite some time. So we decided to write a his and hers post about it.
Let's hear it from Christos first
I believe that self-promotion is an excellent idea. For many freelancers, this is probably the best way to promote their services and uniqueness. By doing so, they gain recognition and establish themselves in the market. The plethora of online tools makes self-promotion even easier. This, however, is also a tricky point. I see many fellow professionals who, in their attempt to promote themselves, cross the Rubicon and start glorifying themselves, their services and/or their "vast" knowledge on the translation business.
I've noticed an increase of taking self-promotion too far lately. I check my Twitter and Facebook accounts and most of the updates I see are something along the lines of "I am the best", "I know this, I know that, I know everything", "Watch my latest webinar/Read my latest blog post/Download my latest e-book" and so on. And not just once about a specific webinar/presentation/blog post or even a few times, but repeatedly; that's where the problem lies and the whole thing gets annoying.
My problems with this approach are: if you are indeed the best in the business, what's the point in bragging about it? Why would you spam your followers and readers by mentioning the same info about you and your services/webinars/e-books and so forth again and again?
This is something that I rarely see outside the translation sector: I don't see the greatest athletes in the world bragging in social media about their greatness – they prefer to show it in the pitch, on the court, on the track. I don't see great academics bragging in social media about their greatness – they prefer to show it in their books, classes, articles. I don't see great businessmen bragging in social media about their greatness – they prefer to show it in the results of their companies, their acquisitions etc. So, why would translators be any different?
Catherine's turn
Self-promotion is an important part of online networking; that's what all the books and blogs tell us. Some even advise us about the quantity of acceptable self-promotion: share 80% useful content and 20% about your business. I think that's a bit too much, but I'm probably wrong. We don't promote our blog, our services and achievements as much as we should according to the 80-20 rule, but as with most aspects of social media, there are no one-size-fits-all rules; it's all about what you feel comfortable with.
The social media community of translators and interpreters is getting bigger and better by the day. A few years back there were only a few dozen must-follow translators on Twitter; most people were still wondering what to share and how. Nowadays, we're talking hundreds. But some of our respected colleagues are taking it a bit too far. Even if you send 30 tweets per day, I think 10-15 of them being about your blog, services and/or how great you are is too much.
You're presenting at a conference, good for you. Send a few Twitter updates and/or write a post in your blog about it. Don't repeat it over and over again before the conference, during and at least two weeks after. You're offering consulting services for newbie translators. Again, tell the world but don't keep repeating it. Add a button in your site or blog and whoever is interested will find you, no need to annoy everybody else.
Instead of focusing on what you shouldn't do, I want to give you three great examples of translators using self-promotion on social media in the best possible way, as far as I'm concerned. In fact, I should say they don't use self-promotion at all; check out their blogs, Facebook pages and Twitter accounts and you'll see why they don't need to…
Erik Hansson, Twitter @erik_hansson, Facebook page
I think Erik is a master networker. He's brilliant in sharing useful and interesting content, he recommends other great tweeps every Friday (I don't think he's missed a Friday in the 2.5 years I've been following him) and his Facebook page is the best example of what a translation company page should be like; just take a look and Like it so you can read his fun and interesting updates.
Judy and Dagmar Jenner, Twitter @language_news, Blog Translation Times
Both their blog and Twitter account first recently won 1st place in the 2013 Language Lovers competition. Their updates and blog posts are consistently useful, interesting and fun. They usually involve a personal story that has to do with translation or interpreting, but never in a promotional way. Why? Because what they share in their blog and their Twitter accounts is so interesting, they don't need to promote or say how marvelous and great professionals they are. Their followers like them so much, they do it instead! They have their own army of free good-willing brand ambassadors.
Jill Sommer, Twitter @bonnjill, Blog Musings from an overworked translator
Jill is a perfect example of lack of self-promotion. Her blog and Twitter updates are personal stories about her work as a translator (like the Jenner girls above). I've never seen a single "promotional" word or tweet from her, yet her blog is one of the most popular translation blogs; and I'm not talking about blogs mostly for newbies seeking advice. This is a proper let-me-share blog, full of tips and great discussions.
What do you think dear readers? How much do you think is too much? Do you get annoyed by colleagues sharing too much about themselves and their fabulousness on social media? Are you persuaded and want to follow their good example or just unfollow/unfriend them?
Further reading
Self Promotion is a Social Turn Off
Social Media: How Much is Too Much Self-Promotion?
You may also like