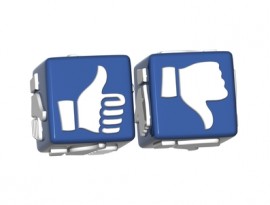 I recently got a mass email from a translation agency I work for with an update on their recent activities, including their newly created social media accounts/pages. After a bit of information on company restructuring, it got really interesting: they boldly asked that we (the translators) should not try to connect with them on social networks and that they would reject any "applications" from their translators to join/follow/like the company. Nothing personal, they said, we just want to keep a distance between you and our end-clients and our social media presence is about them not you.
They went on to justify their reasoning for that policy: they cannot afford for their clients to search around their pages in social media sites, find the translators they want, contact them directly and thus breaking the chain by leaving them out in the cold (i.e. no money for the agency). I never replied to that email. This post is, however, an "open-letter" with my response:
1) What's the point of having a presence in a social media network if you are not planning on being social?
Let's say you are a translation company and have a page on Facebook. Why am I not allowed to like it if we work together? How good does a page on Facebook look if only a few people like it? What do you expect to gain via Facebook if you are not advertizing your services? And how you advertize those services if you are a translation agency that no translator likes? Same thing goes for Twitter as well, not to mention Linkedin. I just don't get it, sorry.
2) What are the odds of huge companies/clients shopping around for translators via their provider's social media site?
I'd say 0%. If they want to have their products translated, the big corporations are usually much more inclined to choose a translation agency for that rather than shopping around for 20-30 translators and managing them down the road. It's not in their mentality to do so and it also affects their profits and resources, so no danger there for the translation agency.
3) Why don't they secure the possibility of something like that never happening in the contract with the end-client?
If the translation agency is so afraid that the end-client will "steal" its translators, they can add a clause to the contract with the end-client. I am not sure if any translation agency has the guts to ask a big corporation for something like that because they know that what they are asking is a joke, to put it nicely.
4) What are the odds of freelance translators bypassing the agency and contacting the end-client directly in search of a job?
From my experience, I'd say about 5% tops (in Europe) and without any real chance of getting the job. In America, the percentage is bigger, but then again, the corporate mentality at the other side of the pond is different from the European one. Most of my European colleagues like the convenience good translation agencies offer (steady flow of work, timely payments etc.). It's extremely difficult to go for the agency's end-clients and, as I mentioned above, the success of such a move is very doubtful. Not to mention ethics and the contracts we sign that expressly state we're not allowed to do that.
5) How can you expand your business without collaboration and transparency between your company and your translators?
This was my biggest concern when I first read the e-mail. How is it possible to build a long-lasting and fruitful relationship between your company and your translators when you don't trust them? If I like the agency I work for, perhaps I want to show my feeling by "liking" their Facebook page. This is normal in our times and does not mean that I have an ulterior motive (i.e. to work directly for the end-client and bypass them). This also goes for the end-client who won't go to all the trouble of hiring me (and a bunch of other translators for all the different languages they need) by looking at the agency's page on any social media site. In a case like that, loyalty and transparency are the most important factors, not money. Two factors that this particular agency chose to ignore.
I'd like to read your views on this matter. Have you ever experienced anything like that? How would you react to a similar email? Was the agency right in sending out this communication?
You may also like