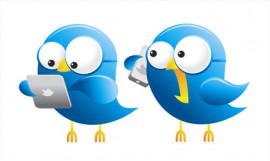 I love Twitter. I've said it before and I'll probably keep saying it until I persuade everybody I know to start using it. If you haven't tried it yet, you can read about its numerous advantages and see what you've been missing out on. It's a great tool to meet new interesting people, build your online presence and grow your network. However, some people get it wrong and most of the times they fail to appreciate it and eventually stop using it or end up annoying their followers.
These are some of the common mistakes people make on Twitter.
1. Professional or personal use
If you want to talk about both aspects of your life, you should have two separate accounts. Your friends might not be interested in news about your industry, and your professional contacts are definitely not interested in the women you want to date, the food you just ate and how handsome your boyfriend is.
2. Personal tweets
Based on #1, avoid sharing too much personal information in your professional account. But, DO send a few tweets now and then that show you're a human and not a robot. After all, this is the best way to engage with your followers (see #3).
3. No engagement
One of the best things on Twitter are the conversations with your peers. They can start with a question (or an answer to a question), a remark or opinion about something you read etc. I am guilty of that mistake (not taking part in conversations) in the past few months due to limited time, but I remember fondly the useful conversations I used to have with my Twitter friends.
4. Retweeting
Personally, I don't use Twitter's RT button. I prefer the old-fashioned way and taking the time to do it manually. What that means: My perfect way of retweeting is putting the original tweet/blog post title first, then the link, the author's name and finally the person I retweeted it from (and then the related hashtag of course). That way everybody is recognized. Both the author and the original Twitterer can see your retweet in their Mentions and that gives you a bigger chance to engage with them.
5. Your username
Don't make it hard for people to remember your username. Your Twitter handle is as important as your brand name, your blog name etc. It helps your engagement with other people.
6. Your bio
Sadly, that's a mistake most people do. It's just a few words. Why leave it blank? Add a few words about who you are, what you do, a link to your website etc. This is the first thing potential followers read. If it's blank, what does that say about you?
7. Your avatar
Are you still using the impersonal default Twitter image? Add a nice professional or professional-looking photo (preferably), your company logo even an image that reflects your personality (don't take it too far).
8. Following too many people all at once
Take your time to choose the people you want to follow. It's not a numbers game. Following hundreds of people only because that raises your chances to get more follows back doesn't sound like a very beneficial way of using Twitter, does it? What kind of image does that give to people who check out your profile to decide if you're worth following or not?
9. Too much attention to numbers
Twitter is all about the content, the relationships formed. Don't obsess over the number of people following you, the ones you follow and the tweets you've sent. Focus on sharing useful content and the numbers will raise naturally.
10. Automatic DMs
You press the Follow button and you immediately get a DM saying "Hi, how are you?" or "Visit my website to learn more about me" or "Download my very useful ebook". That's annoying, right? The first impression you get is that the person you just followed is a spammer, you don't want other people thinking that about you. Only use DMs when you have something of essence to say.
I have done some of those mistakes in the past but as the time went by I tried to learn from them. Of course, there's no specific recipe for successful Twitter use, you just experiment and find the right way that suits your specific needs and makes it more fun for you.
Are you guilty of any of those mistakes? Any annoying habits your Twitter friends have or that you consider wrong?
Stay tuned for the next part of this post 10 (More) Common Mistakes on Twitter in a few weeks and Happy Tweeting!
You may also like